WebSite History
www.maraska.it is a collection of pictures, videos and stories about myself and several trips I have made across the world over the last few years. There is more: this website also deals with an alternative way of travelling and get to know people and places.
Following paragraphs will tell the story of the website since the beginning. Or even before...
2004
I started to track my trips and publish pictures online, using free websites (mainly geocities). Primitive interface, only the link to the trip itself, no homepage. There were just a bunch of pictures with no explanation.
2005
My first transoceanic trip, toCanada and NY, was the final excuse for building the website. It was the first of September, 2005 when I purchased the domain "maraska.it". In a couple of weeks my American trip and all previous external links were available. I eventually added a (very) basic home page.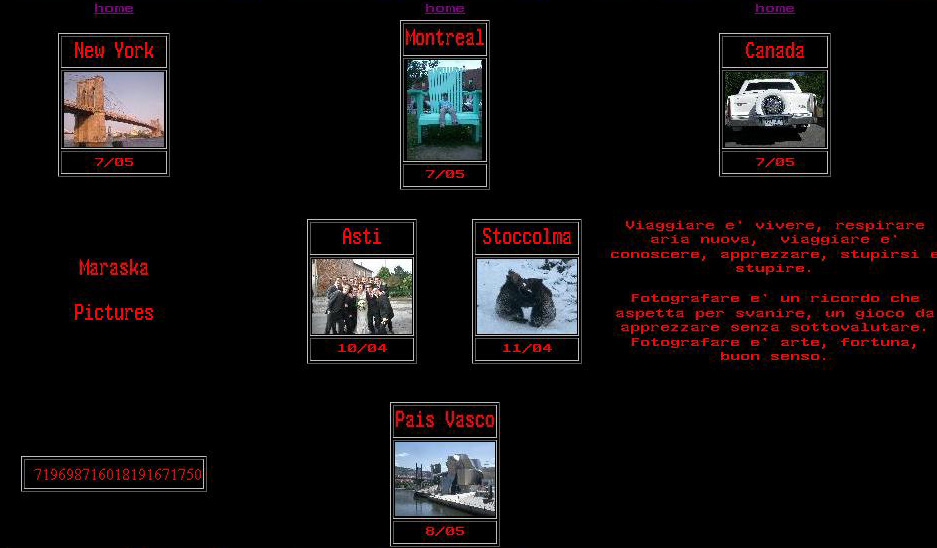 2006
Once again in America:Florida and New Orleans on the road. Alone. This was the first time I decided to add some comments to pictures, the "reportage" style was borne...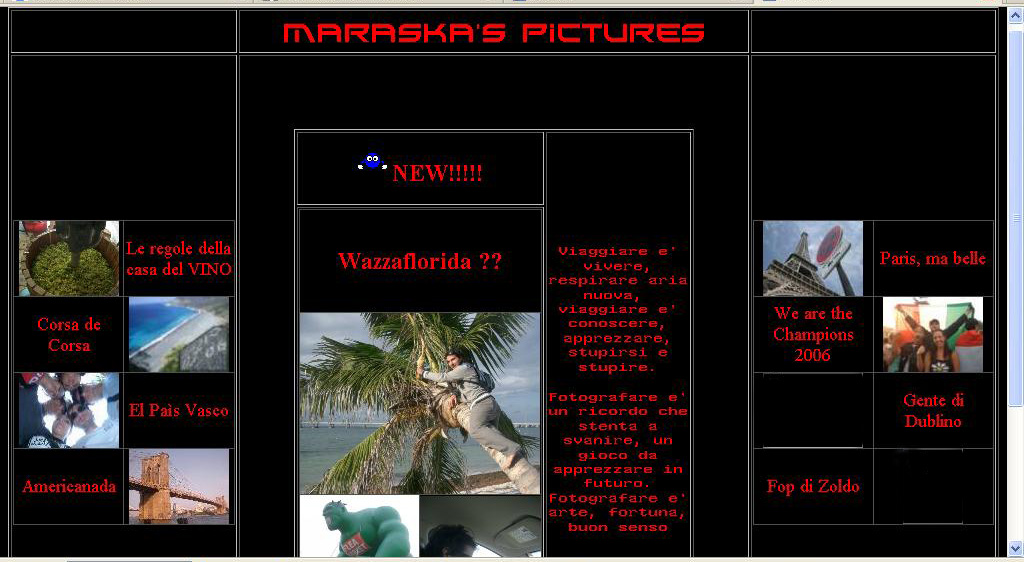 2007
In 2007 I experienced one of the most beautiful country in the world: MEXICO. When I came back home I realized that besides tons of pictures I had a lot of little films taken with my (photo)camera. This was a good excuse for trying and learn some video editing and create a music video of the trip.
And the result was not bad at all...
2008
2008 was dedicated to learn and test video editing programs and skills. My stunning trip toKapadokya and my unforgettable holyday in Sicily helped a lot.
Favignana video uploaded on my youtube channel won the "Most 50 viewed video of the week" prize in August 2008, and during the first year more than 10.000 people visited it.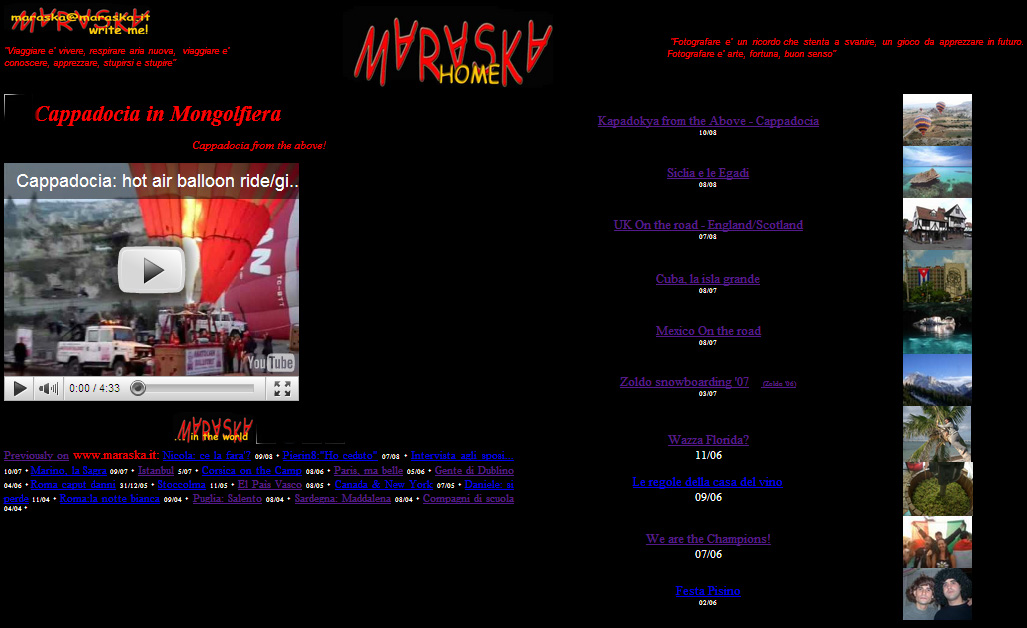 2009
I will always remember 2009 for my amazing and extraordinaty trip to Peru.
Unfortunately I "lost" my camera during the very first days of the trip, so I had to rely on a friend's REFLEX: back to photography...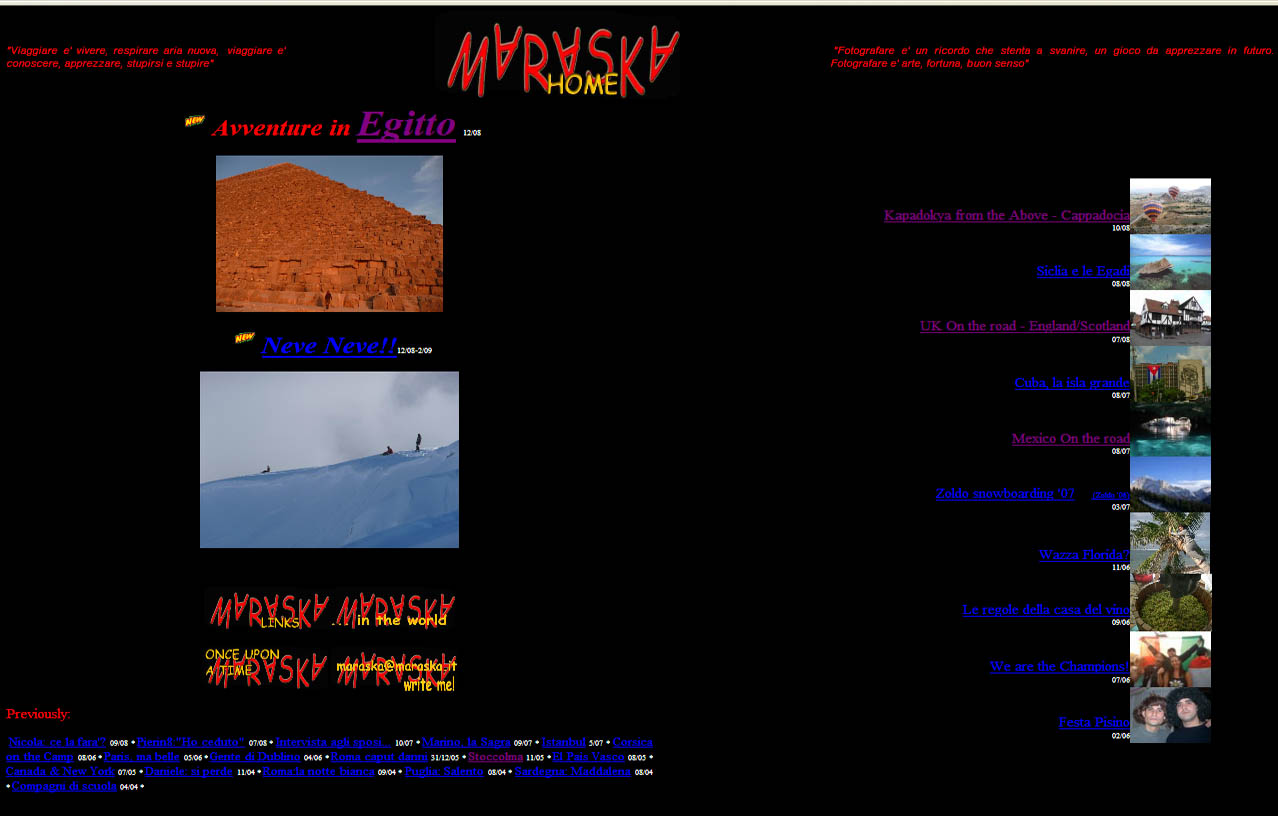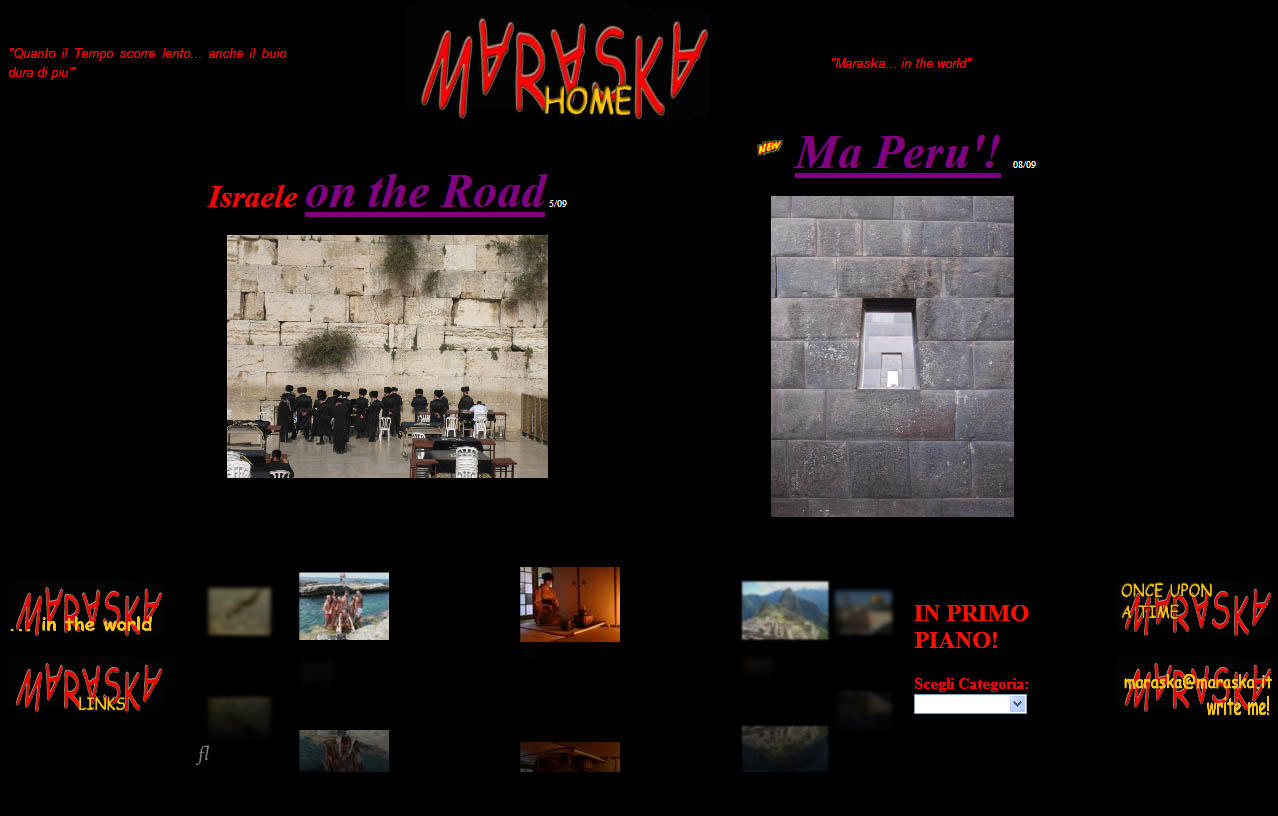 2010
On 27 of December 2009 I decided I had to leave for a trip: I get a very last second and after a couple of days I left forJapan.
In the first half of 2010 I have travelled almost more days than ones stayed in Rome (mainly for business reason). During one of those (Israel) trip I had the opportunity to cross the border and spend few days in Jordan. The very same day I came back from Israel, I had just a couple of hours to go home, change my luggage and go back to the Ariport for another trip:Saint Petersburg, Russia .
Unfortunately at the end of July, just a few days before leaving for vacation, I had an accident and had to renounce to yet another adventure.
No big deal... I took some time to restructure my website and give a new shape: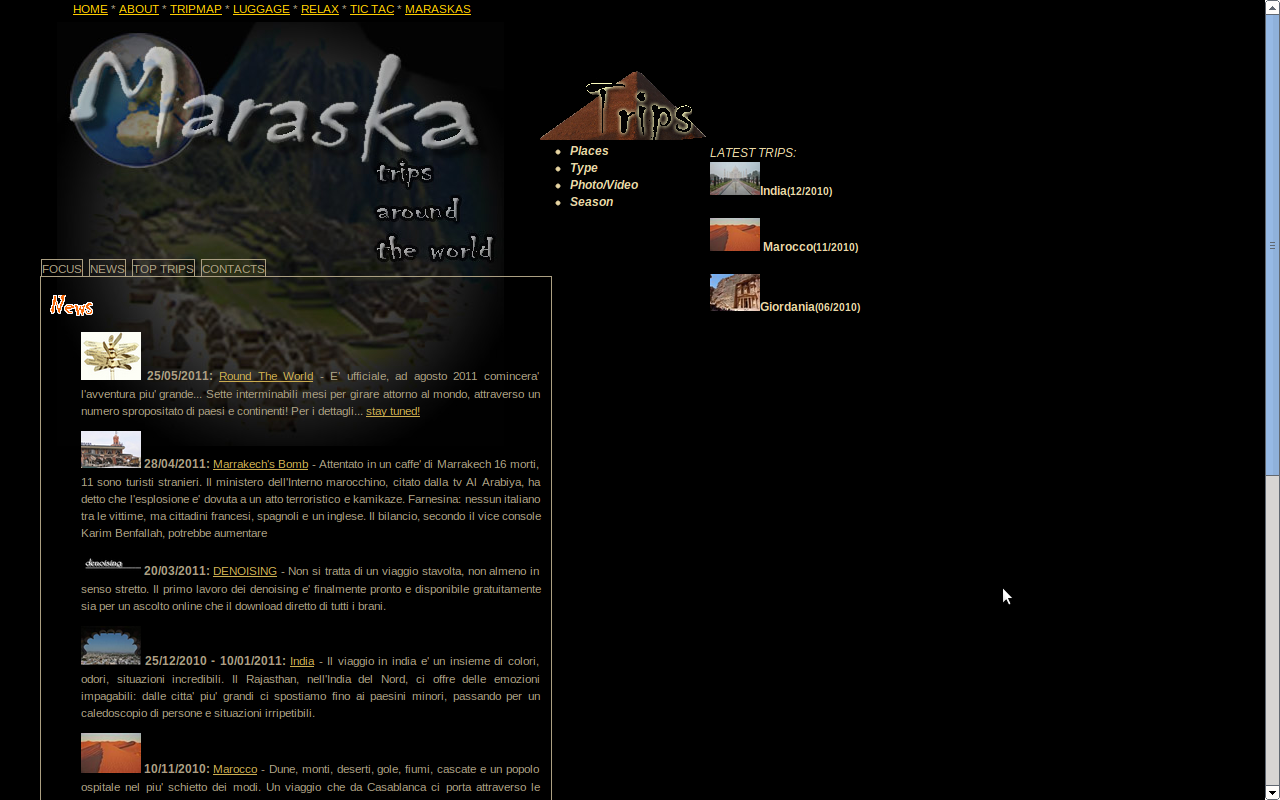 By later 2010 I was back into travelling, with a new spirit and -mostly- a new camera: my first owned reflex, Nikon D3000.
I started training in Morocco and I eventually got delighted by Rajasthan, India.
2011
At the beginning of 2011 I took the decision: theRound The World. trip. At the time of writing this section, the trip is about to start, a new website was created for this purpose, and new sections added. Also officially language switched into English, for a more international reading opportunity.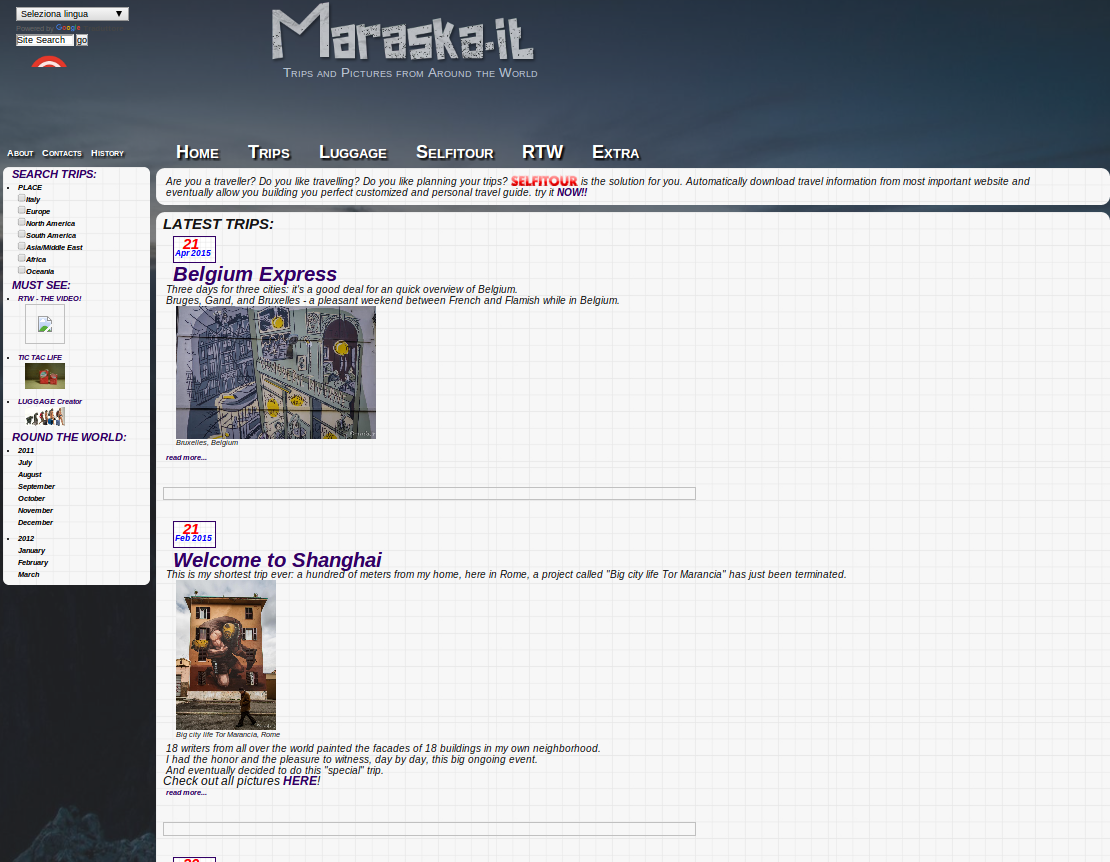 2012
I continued traveling around the world untill the end of March. Then eventually and sadly I had to go back home. Yet the will to travel grew so much that in a few months I managed to visit Thailand,Cambodia and India, where I spent Christmas and new years eve
2015
nothing changed until late 2015, when maraska.it eventually switched to a CMS style website, completely responsive and configurable.
We are now ready for the new era...